Cheek Fillers in Meredith, NH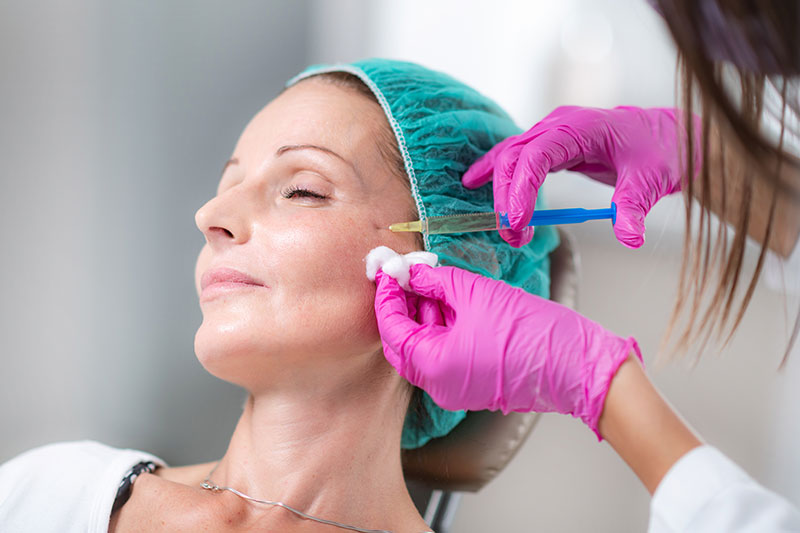 If you don't like how your cheekbones look, you might think about getting cheek fillers, which are also called dermal fillers. These beauty treatments are meant to lift your cheekbones, give your face more volume, and get rid of fine lines and wrinkles. Fillers for the cheeks are becoming more and more popular, and we here at Life Medi Spa are here to help you achieve the looking you're going for. 
What are Cheek Fillers?
Cheek fillers are injections that make the area above and around your cheekbones look fuller. This gives the impression that the bones are more defined, and the fillers can also smooth out wrinkles and fine lines by adding volume under the skin. A few different types of materials can be used in cheek fillers. Hyaluronic acid dermal fillers, like Juvederm and Restylane, and polylactic acid dermal fillers, like Sculptra, are recommended for the cheeks and under the eyes. These kinds of dermal fillers only last for a short time. We use Juvederm at Life Medi Spa to help our patients achieve their ideal look.
Why are Cheek Fillers Used?
As people get older, their skin gets thinner and loses its natural volume, and with this loss, your facial muscles work closer to the skin's surface. This makes smile lines and crow's feet more noticeable. The skin on your face also loses volume as you get older, which can make you look older than you are.
Dermal fillers from Life Medi Spa can help you get back the shape and volume of your skin that you lost over time. Reach out to us today to schedule a consultation with our professionals.
Benefits of Cheek Fillers
Compared to other treatments like cheek implants and facelifts, cheek fillers have several clear advantages:
Fillers for the cheeks can be done in the office of a professional with little or no anesthesia
Recovery from cheek fillers is quick, and most people can go back to work or their regular activities right away
The results of cheek fillers can last for months or even years, but they aren't permanent, so if you change your mind, you don't have to live with them
There is a very low chance of serious problems or infections from cheek fillers
Fillers for the cheeks can be changed after they have been put in. This means that you can add more filler to the injection site until you get the look you want
Fillers for your cheeks are cheaper than more invasive plastic surgery if you want to make them look fuller
Cheek Fillers Treatment in the Lakes Region NH
Here at Life Medi Spa, we are ready to help you achieve your goals. Whether it be for a younger look, or just to help bring your cheeks to life, our professionals are here to help. Come see us in beautiful Meredith, NH in the Lakes Region for your aesthetic needs. Schedule an evaluation for dermal cheek fillers at Life Medi Spa today. Contact us and call the med spa to talk to a member of the team at (603)232-9008.
Frequently Asked Questions
Do Cheek Fillers Look Natural?
To get results that look natural, the person who injects the filler must have expertise in doing so. It is vital to work with a professional like Life Medi Spa, for your cheek filler needs to make sure your results are safe, effective, and most importantly, natural!
Are Cheek Fillers Safe?
Cheek fillers are a simple, low-risk procedure with little downtime, but that doesn't mean there isn't a chance of side effects.  Common side effects of cheek fillers include:
Swelling

Bruising

Itching

Redness
All fillers for the skin have a small chance of causing an allergic reaction or an infection. If you use a provider who isn't licensed or hasn't done it before, you're more likely to have rare side effects. These rare effects are:
Filler leakage

Tissue death due to circulation blockage

Injury to your veins or arteries

Vision loss
With Life Medi Spa, our trained professionals are here to help you achieve safe and successful cheek filler results.
Are Cheek Fillers Painful?
Even though the needle might pinch or sting, your dermal filler treatment at Life Medi Spa shouldn't hurt. Your treatment can be combined with the use of numbing cream on the skin before your appointment to help lessen the pain. Putting an ice pack on the area you want to treat is often a great help as well. 
Some types of dermal fillers are made with lidocaine, which is a solution that makes the pain go away. This helps even more to ease any pain you might be feeling, so you can feel at ease during your visit.
Schedule an evaluation for dermal fillers at Life Medi Spa today. Contact us and call the med spa to talk to a member of the team at (603)232-9008.
How Long Does a Cheek Filler Treatment Take?
How long the treatment takes will depend on where the filler is being put and how much is needed. But most treatments with dermal fillers are quick and take less than 30 minutes. 
You can get your treatment on your lunch break! However, if numbing cream is used, it will take about 20 minutes for it to work before the treatment can start.
How Long do Cheek Fillers Last?
Dermal fillers are made to stay in place for a long time. Most of the time, your dermal filler solution will work best for at least a year. Some of Life Medi Spa's dermal fillers we offer can last up to 24 months.
Once you notice that your dermal filler treatment isn't working as well as it used to, it's safe to have it done again.
What's the Recovery Time for Cheek Fillers?
After a filler treatment, you won't need to take any time off, so you can go on with your plans as usual. And any side effects you might have should go away after a few days of treatment. However, you might not want to schedule anything important until the redness, swelling, and bruises have gone away if you experience any.