Coolsculpting® Elite Meredith, NH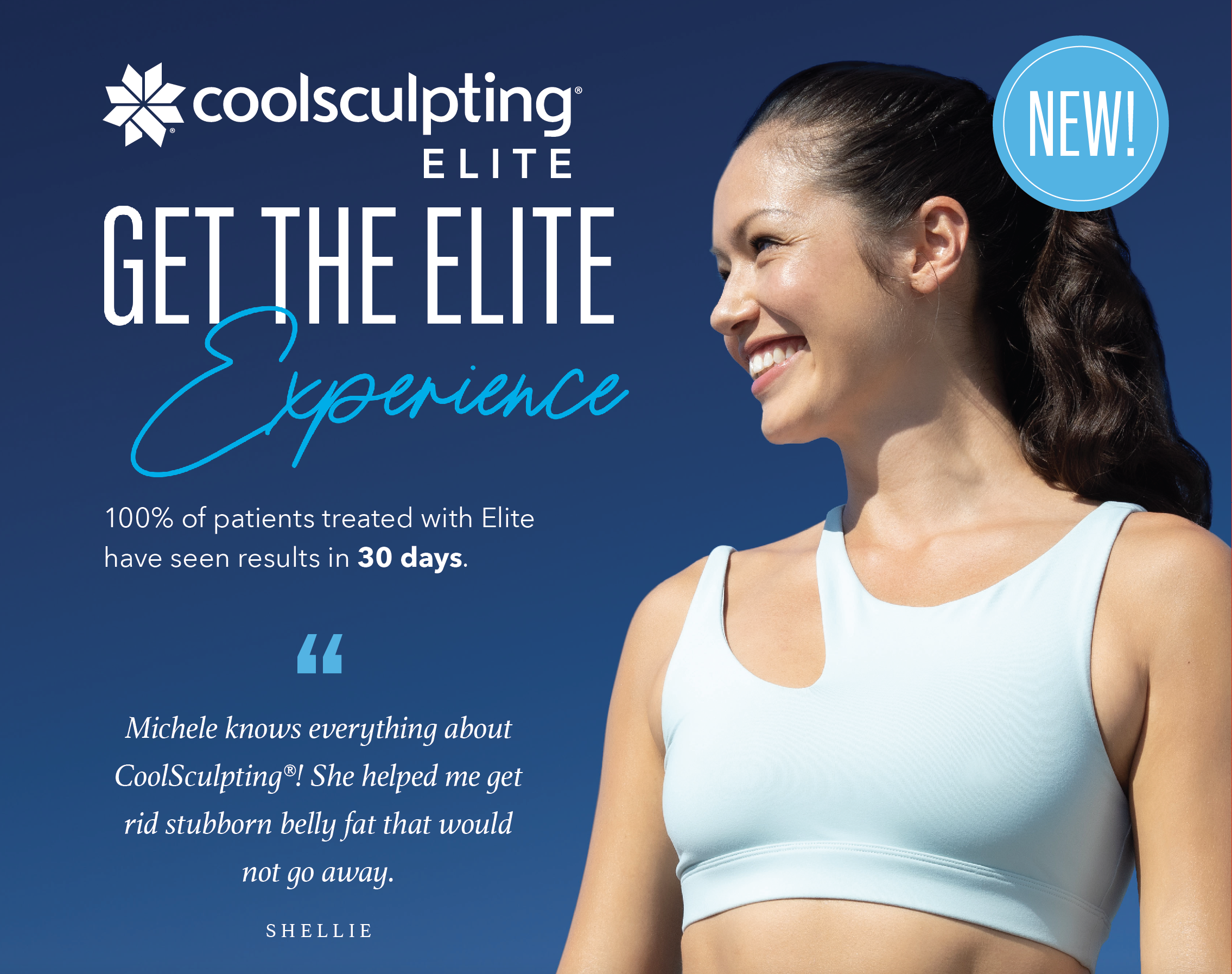 CoolSculpting® Elite is the only FDA-cleared procedure to use controlled cooling to safely target and eliminate diet- and exercise-resistant fat. Get Coolsculpting Elite today.
This unique fat reduction treatment eliminates stubborn fat safely and effectively, with no surgery and minimal downtime.
Life Medi Spa is a CoolSculpting®-certified practice. Contact us today to get started.
Reduce Stubborn Body Fat Without Surgery
Through a proprietary process called "cryolipolysis," CoolSculpting® delivers intense cold directly into the fatty tissue you want to be eliminated.
The result: fat cells are cooled to the point that they die off and are eliminated by the body over time.
Fat cells freeze at a higher temperature than other tissue like your skin, muscle, and nerves, so CoolSculpting® is safe and will leave your skin unharmed.
With a single CoolSculpting® Treatment, we can eliminate up to 25% of unwanted fatty tissue.
Pinpoint Trouble Spots
With CoolSculpting® Elite, you can pinpoint certain areas that are troubling for you to reduce weight. The treatment is cleared by the FDA in nine different areas including the submental (under the chin), submandibular (under the jawline), thighs, abdomen, flank, bra fat, back fat, and underneath the buttocks (also known as banana roll), and upper arm. You will work directly with us to customize a treatment plan that is unique to you and your body contouring goals.
A PROVEN SCIENCE
CoolSculpting® patented cooling technology treats your problem areas and lowers the temperature of the treated area to the correct degree where your fat cells freeze, but your skin remains unaffected. The cryolipolysis fat-freezing technology gives long-term results that make trouble spots, less troubling. Your body will naturally eliminate the dead cells in one to three months or more, resulting in a reduction of fat in that area of up to 20%-25%.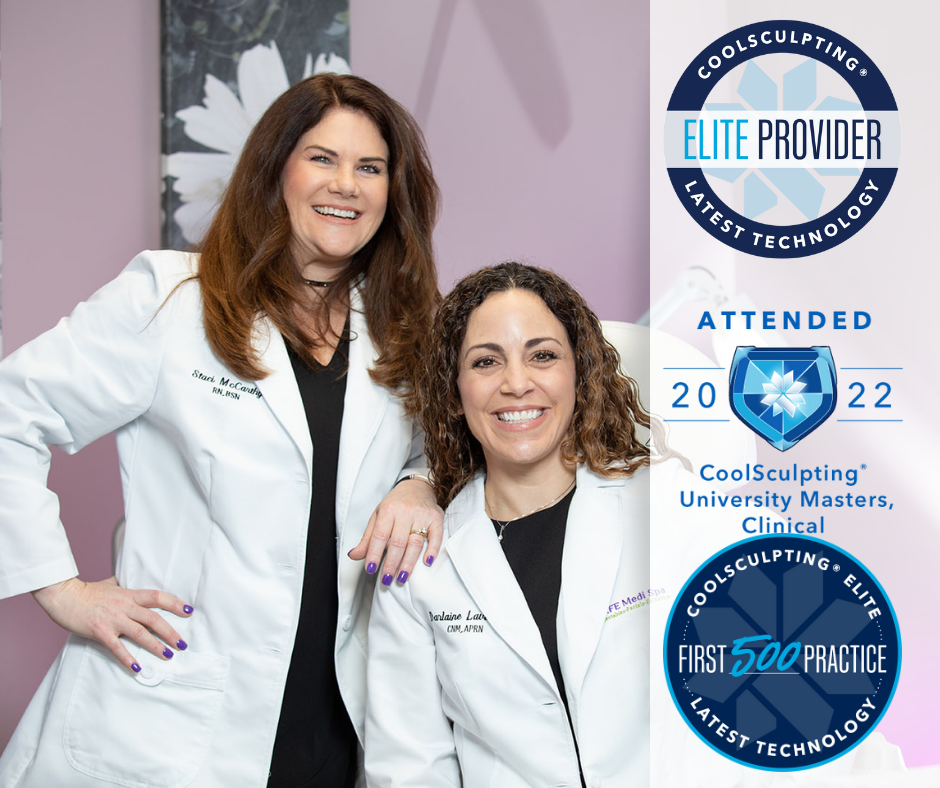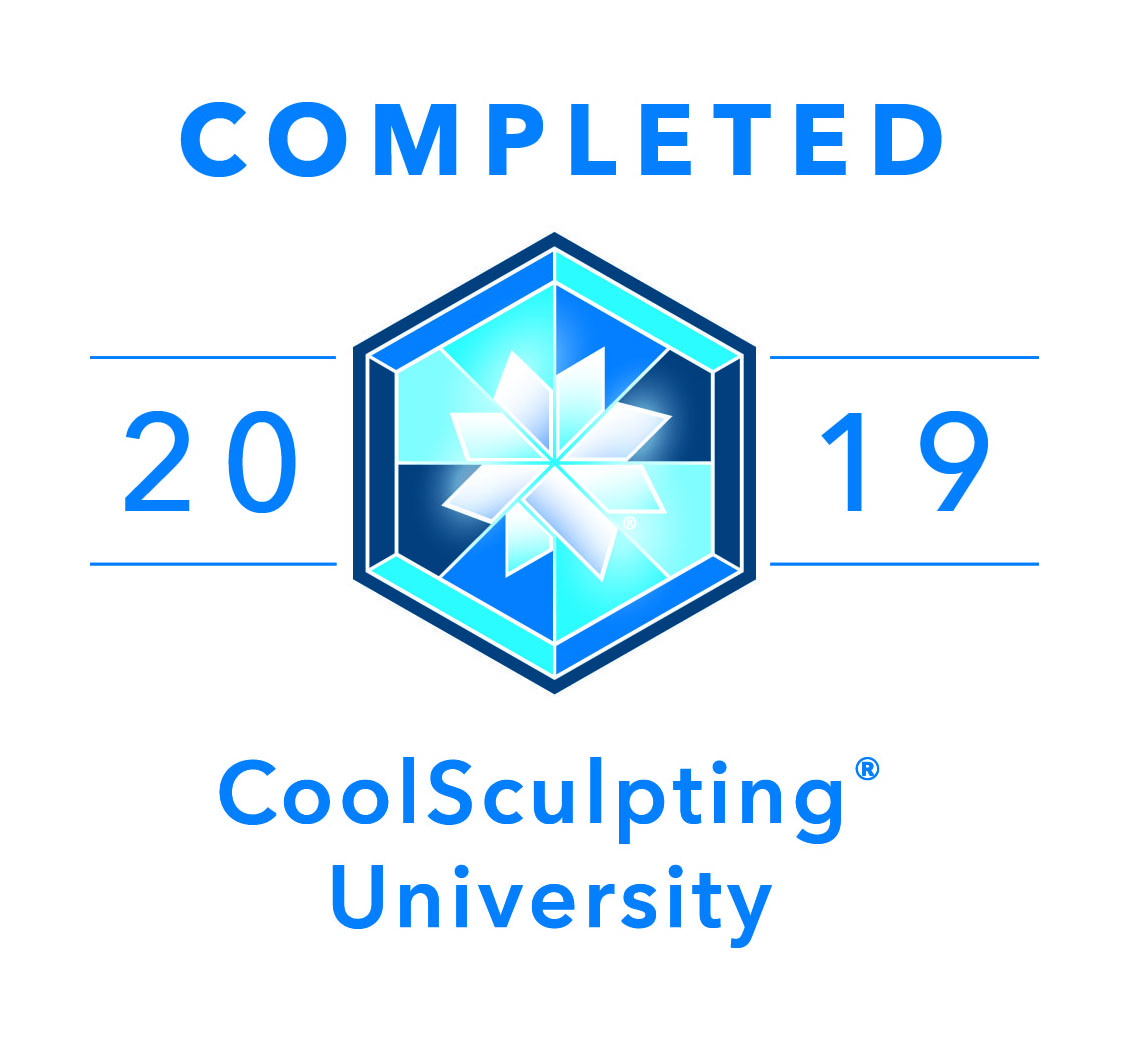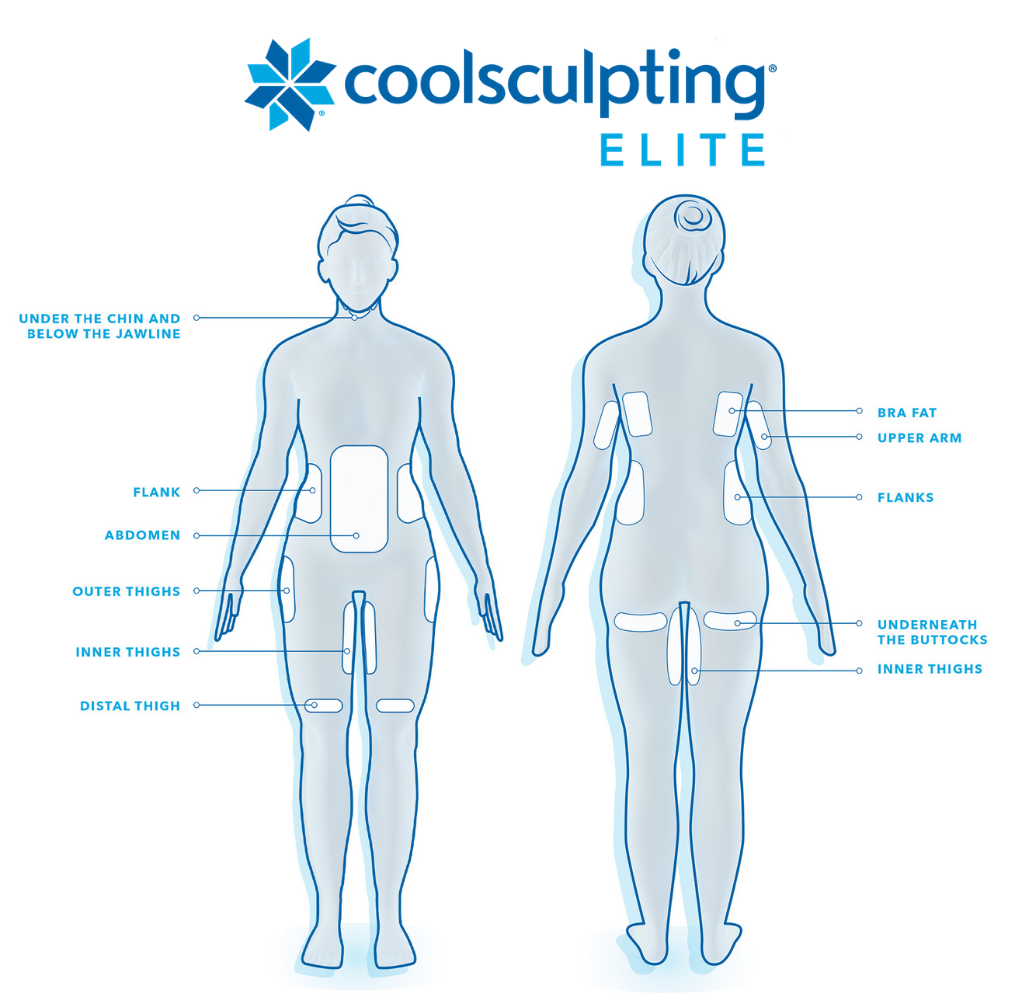 WHAT IT'S LIKE DURING A COOLSCULPTING® PROCEDURE
The CoolSculpting® applicator will be placed on your specific treatment area and there will be a slight sucking sensation followed by the signature cooling effect. During a CoolSculpting® procedure, you may experience many different sensations including pulling, tugging, mild pinching, intense cold, tingling, stinging, aching, and cramping at your treatment site. After the treatment is completed, a massage helps break up the treated fat cells and enhance fat reduction.
Side effects after treatment may include redness, swelling, blanching, bruising, firmness, tingling, stinging, tenderness, cramping, aching, itching or skin sensitivity, and a sensation of fullness in the back of the throat after a chin or jawline treatment.
Some of these side effects may be more bothersome to some, but the alternatives to CoolSculpting® Elite can be more invasive with more painful procedures and recoveries.
IS THIS TREATMENT RIGHT FOR ME?
CoolSculpting® is a fat-reduction treatment for men and women who want to get rid of stubborn pockets of fat in certain areas of their bodies. It is a non-surgical alternative to other procedures that are more invasive and require some downtime for recovery.
While many will see up to a 25% fat reduction after a single treatment, it can vary from person to person and depends on which area is being treated.
Another variable would be the cost of CoolSculpting®. This treatment cost varies depending on areas of concern, the number of treatments needed, and the goals of the patient. Some areas require more treatments than others to achieve desired results. A customized treatment plan will be created for you dependent on your goals and budget.
What is CoolSculpting®?
The one and ONLY FDA-cleared treatment to eliminate stubborn fat in 9 different areas of the body including under the chin and jawline areas, thighs, abdomen, and flanks, along with bra fat, back fat, underneath the buttocks, and upper arms.

CoolSculpting® Elite
Eliminates up to 20-25% of treated fat cells.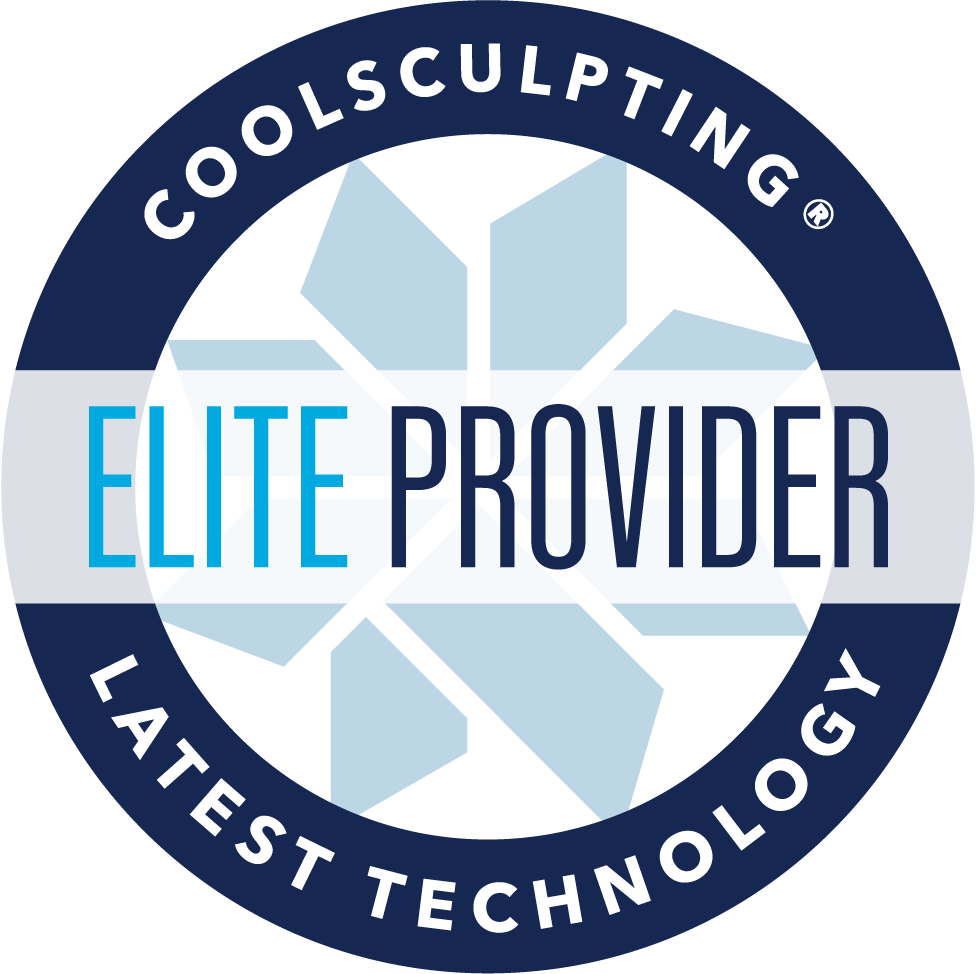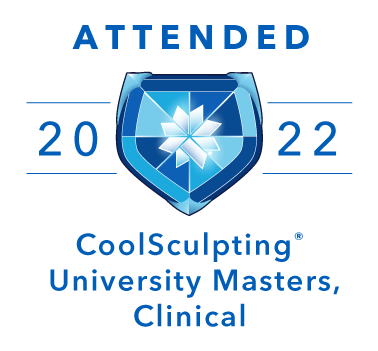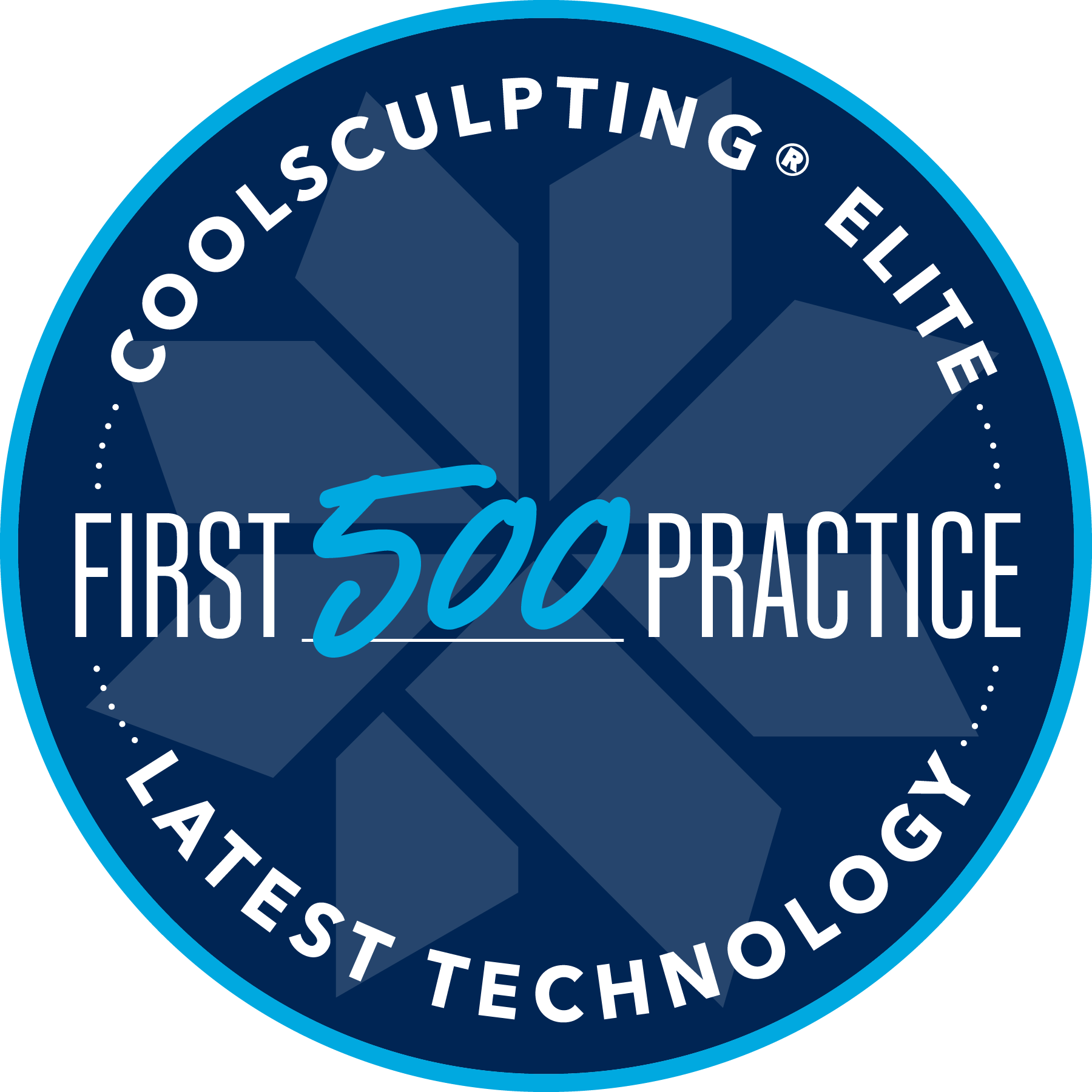 Frequently Asked Questions About CoolSculpting® Elite
Is Coolsculpting® Right for me?
Good candidates have noticeable bulges in certain areas they'd like to get rid of.
The fat reduction procedure is specifically designed for those who have unwanted fat that resists diet and exercise.
Unlike gastric bypass surgery, the CoolSculpting® procedure is not a weight loss solution for people who are obese. It is, however a non-surgical alternative to liposuction.
CoolSculpting® eliminates up to 20-25% of treated fat cells and is a non-surgical fat-reduction procedure that is appropriate for most people who have stubborn areas of fat that have not responded to diet and exercise. If you've been doing what you can to achieve a healthy weight, but stubborn areas of fat like love handles, bra fat, under-chin fat, or inner thigh fat won't budge, CoolSculpting® may be able to help you achieve the look you desire.
CoolSculpting® is not a weight-loss surgery. Weight-loss surgery like gastric bypass can help you lose weight overall, CoolSculpting® is more like a "spot treatment" that helps you eliminate stubborn fat in certain areas of the body.
People with certain conditions should not get CoolSculpting® . If you have cryoglobulinemia, paroxysmal cold hemoglobinuria, or cold agglutinin disease, CoolSculpting® is not right for you.
Request a one-on-one consultation with us to determine if CoolSculpting® is right for you.
How Much Does CoolSculpting® Cost?
The price for CoolSculpting® procedures varies depending on your areas of concern, the number of sessions needed, and your ultimate goals.
Wondering about the price of CoolSculpting® ? The cost of CoolSculpting® depends on the treatment areas you'd like to have slimmed down and how many treatments you need to achieve your desired results. We will work with you to create a personalized treatment plan that's tailored to your body, your goals, and your budget.
The average cost for CoolSculpting® non-invasive fat removal is generally between $1,000 – $4,000 per treatment. Small treatment areas may cost less. The only way to know for sure how much CoolSculpting® will cost for you is to come in for a complimentary consult, so we can assess your needs and give you an accurate price.
We will help create a customized treatment plan, in person, that's tailored to your body, your goals, and your budget.
What Does CoolSculpting® Feel Like?
As the cooling begins during the first few minutes, you will feel pressure and intense cold. This soon dissipates. Many people read, watch videos, work on their laptop, or even take a nap during their treatment.
Patients tell us that their CoolSculpting® treatments are comfortable, painless, and even invigorating! During your CoolSculpting® treatment, you will feel sensations of intense cold, pulling, light pinching, and some aching at the beginning of the session. Some patients describe it as tingling, stinging, or aching cold, similar to what you'd feel through your gloves when playing in the snow. This is all normal, and it means the treatment is working!
After about five or 10 minutes, the treatment area becomes numb (due to the cold), and these sensations subside. We often have patients bring a book to read or a laptop so they can get some work done during the treatment. Yes, that's how comfortable CoolSculpting® is!
After the procedure, you may notice redness, swelling, and itching of the treatment area as your skin warms up and sensation returns. Most patients describe the experience as mildly uncomfortable, but not painful.
When will I see the results?
You may start to see changes as quickly as three weeks after your treatment and will experience the most dramatic results after two months.
Your body will continue to flush out frozen fat cells for up to four to six months after treatment.
Can I return to normal activities after treatment?
Yes, you can! CoolSculpting® is completely non-surgical, so typically you can return to normal activities immediately. Oftentimes, patients return to work after their session.
Are there side effects?
During the procedure you may experience deep pulling, tugging, pinching, numbness or discomfort.
Following the procedure, typical side effects include temporary numbness, redness, swelling, bruising, firmness, tingling, stinging, and pain.
Rare side effects may also occur. You should not have the CoolSculpting® procedure if you suffer from cryoglobulinemia or paroxysmal cold hemoglobinuria. CoolSculpting® is not a treatment for obesity.
Is CoolSculpting® painful?
Millions of CoolSculpting® treatments have been safely performed on patients worldwide. Because CoolSculpting® is non-invasive and involves no incisions, anesthesia, or stitches, complications from CoolSculpting® treatment are exceedingly rare. Side effects of CoolSculpting® treatment include:
Redness and swelling at the treatment site
Bruising of the treatment area
Skin sensitivity in the treatment area
These side effects typically resolve several days after treatment. These side effects are caused by exposing the treatment area to the intense cold of CoolSculpting® . A rare but serious side effect of CoolSculpting® is called paradoxical adipose hyperplasia. In this condition, fat cells grow larger instead of smaller after treatment. Paradoxical adipose hyperplasia is more common in men than in women. Though this condition is not dangerous, it does affect the physique of the patient in a negative way.
DOES CoolSculpting® REALLY WORK?
Real Results:
Before and After CoolSculpting® Elite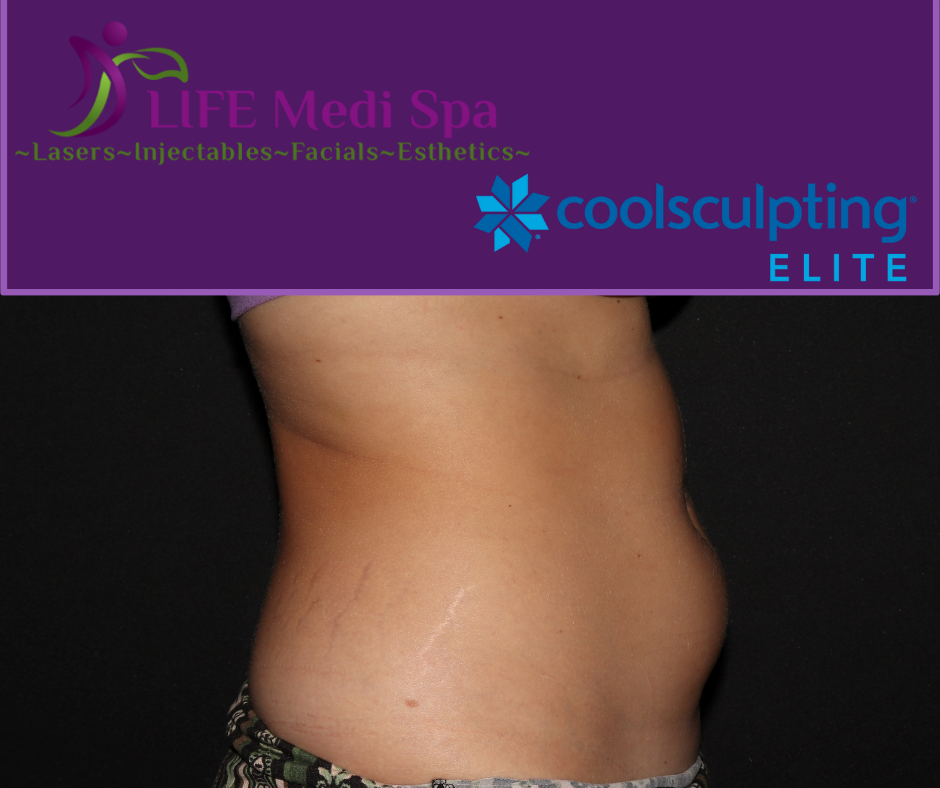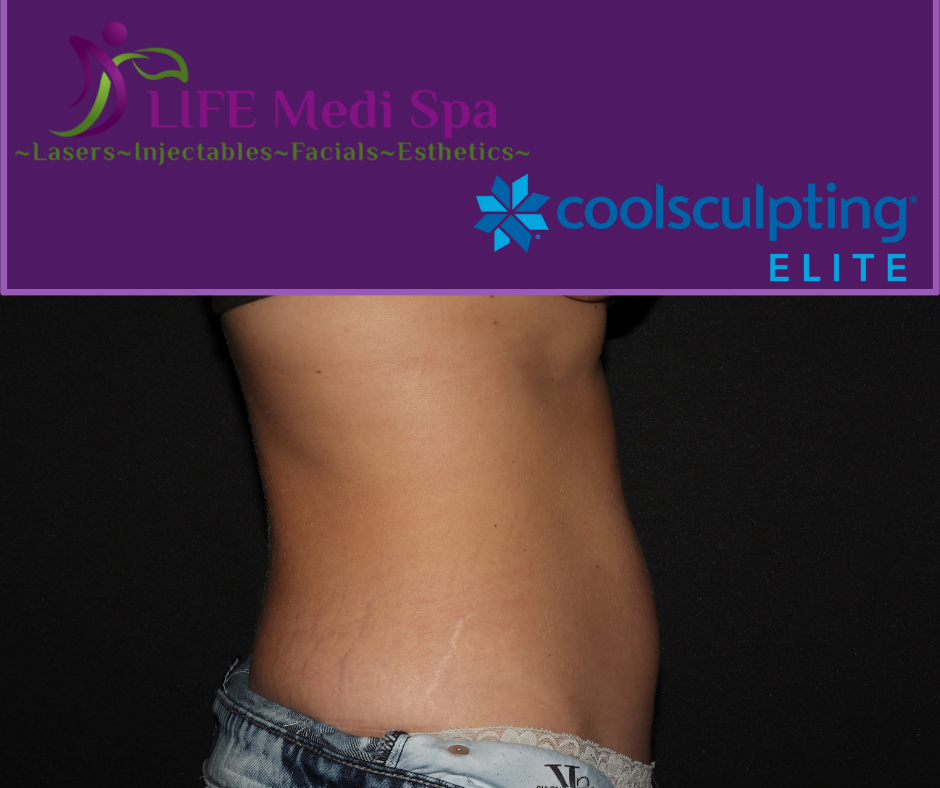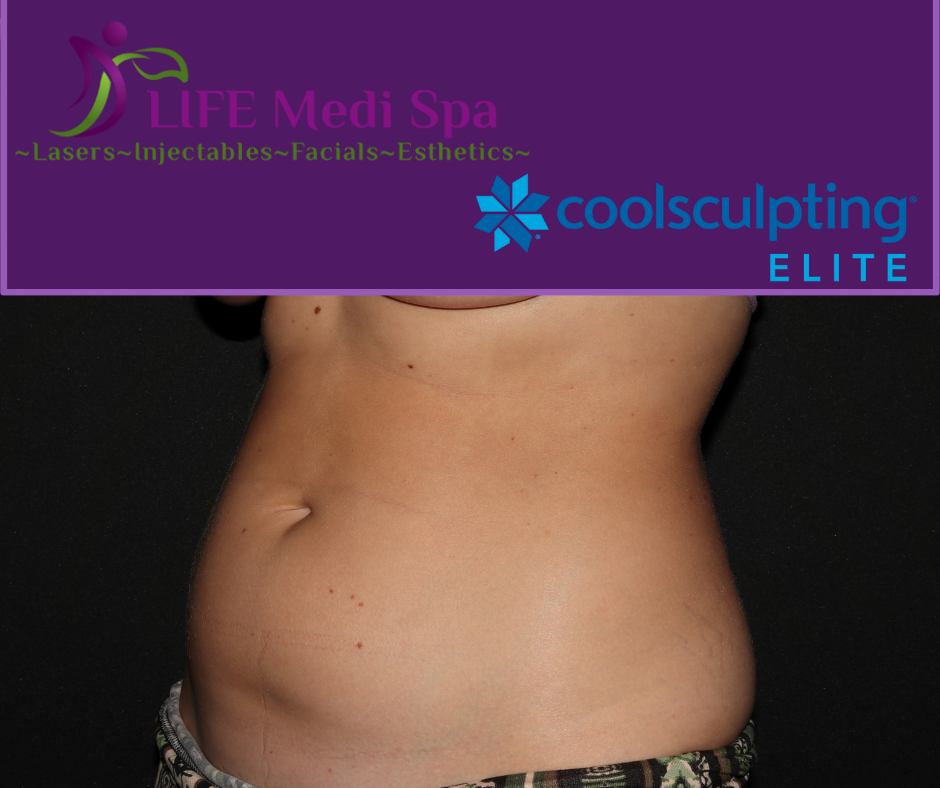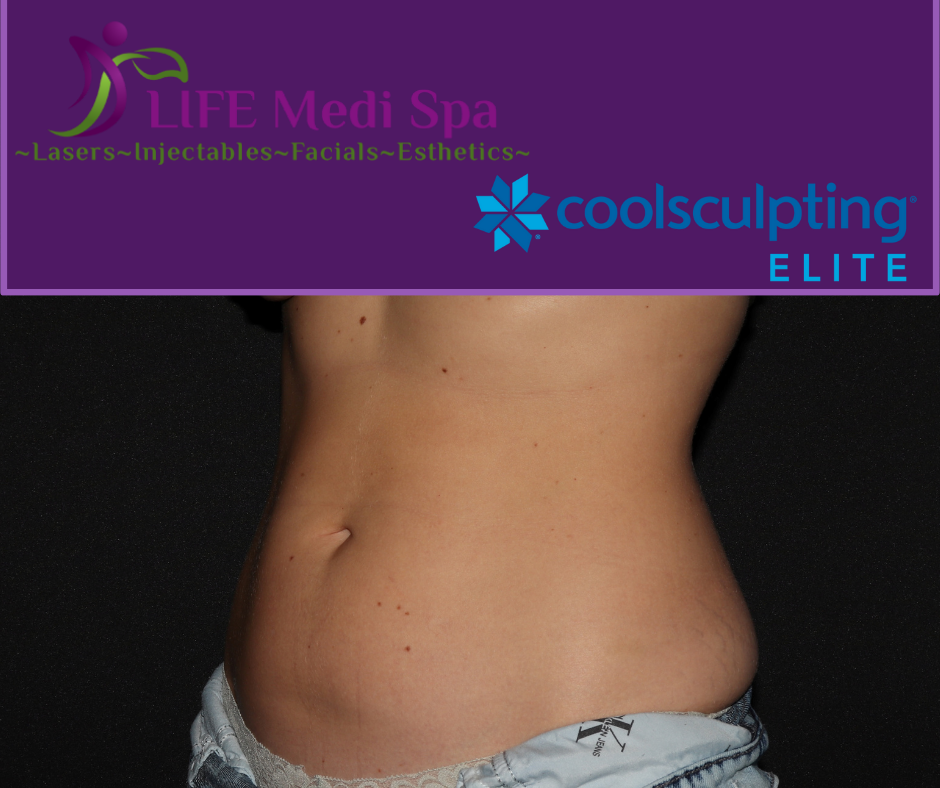 With the CoolSculpting® Elite treatment, the results are real:
You'll see results as early as 1 to 3 months after treatment.
Because your experience is customized for your body, the transformation is clear.
CoolFact Although men and women tend to show fat in different areas, the CoolSculpting® procedure works for both men and women.
It's a fact. CoolSculpting® applies targeted cooling to stubborn fat that won't budge with diet or exercise to freeze and eliminate fat cells. It can reduce stubborn fat by up to 20%-25% in the treated areas, all with little to no downtime and no surgery.